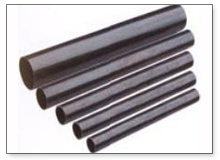 Nickel in elemental form or alloyed with other metals and materials has made significant contributions to our present day society & promises to continue to supply materials for an even more demanding future. Nickel is a versatile element and will alloy with most metals. Nickel and nickel alloys are used for a wide variety of applications, majority of which involve corrosion resistance and/ or heat resistance. Some of these include: Air craft gas turbines, Steam turbine power plants, Medical applications, Nuclear power systems, Chemical and petrochemical industries.
FOLLOWING ARE THE AVAILABLE GRADES IN NICKEL & ALLOYS

Alloy C276

Alloy C22

Alloy 2000

Alloy C4

Alloy G30

Alloy B2

Alloy B3

Waspaloy

Alloy X-750

MonelR405

Alloy 400

Alloy K500

Alloy 718

Alloy 625

Alloy 600

Alloy 601

Alloy 690

Alloy 693

Alloy 800

Alloy 825

Alloy 925

Alloy 200

Alloy 201

 
Forms & Shapes:
Wire, sheet, plate, strip, round bars, hexagonal, flats, square, angle, channel, blanks, tubes, billets, pipes, pipe fittings, forging rings, special shape forgings, fasteners etc.
Specifications:
| | | | | | | | |
| --- | --- | --- | --- | --- | --- | --- | --- |
| AMS 4544 | AMS 5552 | AMS 5664 | AMS 5754 | AMS 5525 | AMS 5597 | AMS 5712 | AMS 6512 |
| AMS 4574 | AMS 5580 | AMS 5665 | AMS 5755 | AMS 5530 | AMS 5599 | AMS 5713 | AMS 6514 |
| AMS 4675 | AMS 5587 | AMS 5666 | AMS 5759 | AMS 5536 | AMS 5608 | AMS 5714 | AMS 6520 |
| AMS 4676 | AMS 5588 | AMS 5706 | AMS 5766 | AMS 5537 | AMS 5660 | AMS 5731 | AMS 6521 |
| AMS 4730 | AMS 5589 | AMS 5707 | AMS 5772 | AMS 5540 | AMS 5661 | AMS 5732 | AMS 7717 |
| AMS 4731 | AMS 5590 | AMS 5708 | AMS 5786 | AMS 5541 | AMS 5662 | AMS 5734 | AMS 7718 |
| AMS 5396 | AMS 5596 | AMS 5709 | AMS 5870 | AMS 5545 | AMS 5663 | AMS 5737 | AMS 5544 |
Stockiest Of High Nickel Alloy
Material Alloy

Trademarks*

UNS

Warkst. nr.

Density

Bar / Billet

Forgings

Flanges

Tube

Pipe

Plate

Fittings

Nickel Alloy

Alloy 200

Nickel 200

N02200

24066

8.89

B 160

B 564

B 564

B 163 / B 730

B 161 / B 725

B 162

B 366

Alloy 201

Nickel 201

N02201

24068

8.89

B 160

 

 

B 163 / B 730

B 161 / B 725

B 162

B 366

Alloy 400

Nickel 400

N04400

24360

8.83

B 164

B 564

B 564

B 163 / B 730

B 165 / B 725

B 127

B 366

Alloy K-500

Monel K-500

N05500

24375

8.46

B 865

B 865

B 865

 

 

 

 

Alloy 600

Inconel 600

N06600

24816

8.42

B 166

B 564

B 564

B 163 / B 516

B 167 / B 516

B 168

B 366

Alloy 601

Inconel 601

N06601

24851

8.20

B 166

 

 

B 163

B 167

B 168

 

Alloy 625

Inconel 625

N06625

24856

8.44

B 446

B 564

B 564

B 444 / B 704

B 444 / B 705

B 443

B 366

Alloy 718

Inconel 718

N07718

24668

8.19

B 637

B 637

B 637

 

 

B 670

 

Alloy 800

Incoloy 800

N08800

14876

8.00

B 408

B 564

B 564

B 163 / B 515

B 407 / B 514

B 409

B 366

Alloy 800H

Incoloy 800H

N08810

14876

8.00

B 408

B 564

B 564

B 163 / B 515

B 407 / B 514

B 409

B 366

Alloy 800HT

Incoloy 800HT

N08811

14876

8.00

B 408

B 564

B 564

B 163 / B 515

B 407

B 409

B 366

Alloy 825

Incoloy 825

N08825

24858

8.18

B 425

B 564

B 564

B 163 / B 704

B 423 / B 705

B 424

B 366

Alloy C-276

Hastelloy C-276

N10276

24819

8.87

B 574

B 564

B 564

B 622 / B 626

B 622 / B 619

B 575

B 366

Alloy C-4

Hastelloy C-4

N06455

24610

8.64

B 574

 

 

B 622 / B 626

B 622 / B 619

B 575

B 366

Alloy C-22

Hastelloy C-22

N06022

24602

8.69

B 574

B 564

B 564

B 622 / B 626

B 622 / B 619

B 575

B 366

Alloy B-2

Hastelloy 8-2

N10665

24617

9.22

B 335

B 564

B 564

B 622 / B 626

B 622 / B 619

B 333

B 366

Alloy 20

Carpenter 20Cb3

N08020

24660

8.10

B 473

B 462

B 462

B 729 / B 408

B 729 / B 464

B 463

B 366

Alloy 904 / L

Uranus B-6

N08904

14539

8.05

B 649

B 459

 

B 677 / B 674

B 677 / B 673

B 625

B 366