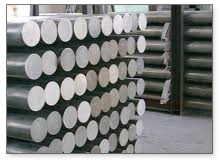 Extruded Aluminum Alloy 6082 is offered for structural applications, including rod, bar, tube and profiles. This extruded aluminum alloy 6082 offers similar but not equivalent physical characteristics compared to 6061 alloy, and slightly higher mechanical properties in the -T6 condition.
Extruded Aluminum Alloy 6082 offers good weldability, brazeability, corrosion resistance, formability and machinability. When bending or forming6082 alloy, it is recommended to use the -0 or -T4 temper. For machining applications, 6082 provides good machinability in the -T5 or -T6 tempers. Machining chips may be difficult to break so it is recommended to use chip breakers or special machining techniques such as peck drilling to improve chip formation. For certain thin wall sections, -T6 temper may not be available due to alloy quenching limitations.
Various commercial joining methods (welding, brazing, etc.) can be easily applied to 6082 alloy. However since 6082 is a heat treatable alloy, strength will be reduced in the weld region.
Alloy 6082 is now available in Sapa's ECON-O-ROD®, ECON-O-HEX®, ECON-O-PLATE®, ACC-U-ROD®, ACC-U-BAR™and ACC-U-PLATE® product forms to satisfy all of your structural and machining stock  requirements. Tempers -T6 and -T6511 are now listed in ASTM B 221. Consult the Material Safety Data Sheet (MSDS) for proper safety and handling precautions when using 6082 alloy.
Extruded Aluminum Alloy 6082 – Temper Designations and Definitions:
| | |
| --- | --- |
| Standard Tempers | Standard Temper Definitions |
| F | As fabricated. There is no special control over thermal conditions and there are no mechanical property limits. |
| O | Annealed. Applies to products that are annealed to obtain the lowest strength temper. |
| T4 | Solution heat-treated and naturally aged. |
| T5, T5511 | Cooled from an elevated temperature shaping process and artificially aged. |
| T6, T6511 | Solution heat-treated and artificially aged. |
Chemical Composition of Extruded Aluminum Alloy 6082:
| | |
| --- | --- |
| | % |
| Si | 0.7-1.3 |
| Fe | 0.50 |
| Cu | 0.10 |
| Mn | 0.40-1.0 |
| Mg | 0.6-1.2 |
| Cr | 0.25 |
| ZnS | 0.20 |
| Ti | 0.10 |
| Others, Each | 0.05 |
| Others, Total | 0.15 |