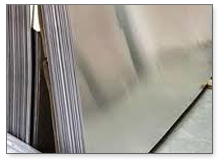 Aluminum Alloy is an versatile engineering materials. It is used in industries such as Aerospace, electrical, packing, transport, building and architecture, gas cylinders, machined components, ladders, sporting goods, road burners, furniture and lithographic plates. The main properties, which make aluminum and its alloy a valuable material are its low density, strength weight/ strength ratio, recyclable, corrosion résistance, durability, ductility, formability, weld ability & conductivity, As aluminum alloys developed over decades, simultaneously the fabrication processes were also perfected through research & development & various aluminum alloys were made available in the forms of plates, sheets, foils, extrusions, forgings & casting.


FOLLOWING ARE THE GRADES IN ALUMINUM:
1050
1055A
1100
1145
1350
1618
2011
2017
2218
3003
3005
4026
5052
5083
5086
5154
6033
6040
6061
6063
6082
6262
7050
7086
7478
8030
8176
 
TEMPERS:
T3
T31
T3511
T4
T451
T465
T6
T651
T73
T73511
T74
T74511
T76
T76511
T8
T81
T851
T8511
T9
 
Forms & Shapes:
Wire, sheet, plate, strip, round bars, hexagonal, flats, square, angle, channel, blanks, tubes, billets, pipes, pipe fittings, forging rings, special shape forgings, fasteners etc.
Specifications As Per: AMS 4029, AMS 4035, AMS 4037 AMS 4044, AMS 4050, INDIAN STANDARDS (IS), BRITISH STANDARDS (BS), GOST (RUSSIAN) ETC.