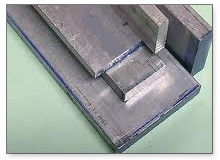 Aluminum Alloy – 7075 is a a cold finished aluminum wrought product, has the highest strength of all aluminum screw machine alloys. The -T6 and -T651 tempers have a typical tensile strength of 83 ksi, which is higher than many mild steels.
Due to its very high strength, aluminum alloy 7075 is used for highly stressed structural parts. Applications include aircraft fittings, gears and shafts, fuse parts, meter shafts and gears, missile parts, regulating valve parts, worm gears, keys, and various other commercial aircraft, aerospace and defense equipment. Rod and bar product forms can be machined on multi-spindle and CNC machining equipment.
Corrosion:
Aluminium Alloy 7075 has moderate corrosion resistance. The over aged -T73 and -T7351 tempers offer good stress-corrosion cracking resistance as compared to the -T6 and -T651 tempers. (Caution: direct contact by dissimilar metals can cause galvanic corrosion.)
Anodizing:
The anodizing response rating for aluminum alloy 7075 is good using commercially available methods. The alloy can be both hard and clear-coat anodized. The properties listed in this Alloy Data Sheet represent the best current information for this alloy. In each specific application, the user is expected to evaluate and test the alloy, temper and finishing method. Consult the Material Safety Data Sheet (MSDS) for proper safety and handling precautions when using alloy 7075.
Machining:
Alloy 7075 offers good machinability when machined using single-point or multi-spindle carbide tools on screw machines. The use of a chip breaker is recommended. The alloy is rated "B" on the Aluminum Association machinability rating system, giving curled or easily broken chips with good to excellent surface finish.
Aluminum Alloy 7075 – Temper Designations and Definitions:
| | |
| --- | --- |
| Standard Tempers | Standard Temper Definitions |
| T6, T651 | Solution heat-treated and then artificially aged. Applies to products that are not cold worked after solution heat treatment, or in which the effect of cold work in flattening or straightening may not be recognized in mechanical properties. Temper -T651 applies to products that are stress-relieved by stretching. |
| T73, T7351 | Solution heat-treated and over aged/stabilized. Applies to wrought products that are artificially aged after solution heat-treatment to carry them beyond a point of maximum strength to provide control of some significant characteristic other than mechanical properties. Applies to cast products that are artificially aged after solution heat-treatment to provide dimensional and strength stability. |
SPECIFICATIONS :
| | | | |
| --- | --- | --- | --- |
| AMS 4044 | ASTM B210 | MIL A-12545 | QQ A-367 |
| AMS 4045 | ASTM B211 | MIL A-22771 | QQ A-430 |
| AMS 4049 | ASTM B221 | MIL F-18280 | QQ WW-T-700/7 |
| AMS 4131 | ASTM B241 | MIL F-5509 | SAE J454 |
| AMS 4147 | ASTM B247 | QQ A-200/11 | UNS A97075 |
| AMS 4154 | ASTM B316 | QQ A-200/15 | QQ A-250/24 |
| AMS 4323 | ASTM B468 | QQ A-225/9 | QQ A-250/13 |
| ASTM B209 | DMS 2233 | | |
CHEMISTRY DATA :
| | |
| --- | --- |
| Aluminum | Balance |
| Chromium | 0.18 - 0.28 |
| Copper | 1.2 - 2 |
| Iron   | 0.5 max |
| Magnesium | 2.1 - 2.9 |
| Manganese | 0.3 max |
| Remainder Each | 0.05 max |
| Remainder Total | 0.15 max |
| Silicon | 0.4 max |
| Titanium | 0.2 max |
| Zinc | 5.1 - 6.1 |

GENERAL INFORMATION :